François-Noël Babeuf-room
Type
civic auditory
Designed by
Papadouros J.
Opened in
2009 (first used in 2010)
Seats
1200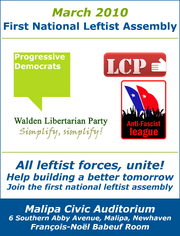 The François-Noël Babeuf-Room is the largest communication and convention room in the Lovian Malipa Civic Auditorium. It is named after François-Noël Babeuf, a French journalist and political agitator. The room was officially opened in October 2009 but was not used untill March 2010. The room was since then frequently used for political gatherings and intellectual lectures. The room hosts 1200 seats, including space in the back that can be used for the press. The interior of the grotesque room was designed by Lovian architect Papadouros J. and shows certain similarities in design to Sydney's Opera. The seats are covered with a red velvet tissue. The room is under the surveillance of the janitorial staff. The François-Noël Babeuf-room is the largest civic auditory in Lovia.
Meetings
Edit
The First National Leftist Assembly
Edit
The first meeting to be hosted in the room was the first National Leftist Assembly, involving some of the most notable socialist citizens of Lovia, including Jon Johnson, Yuri Medvedev and August Magnus Donia, in March 2010. The convention was originally to be organized at Donia Castle, but due to fire safety issues a larger location had to be found. Bilateral conversations on the future of leftist forces in Lovia were held. Many political organizations attended the meeting, including the Anti-Fascist League, Lovian Communist Party, the left-wing members of the Progressive Democrats and even some Waldeners.
The meeting was to be presided by August Magnus Donia and Yuri Medvedev. Donia however couldn't be present for the larger part of the meeting. Because Donia had to held the opening speech, the meeting risked becoming a failure. Fortunately Yuri Medvedev took over this task and the meeting kicked off only one day later than foreseen.
Attendees
Edit
Currently, there is only a list of people who were invited. This list will be updated later on.
PIGER-Press-Conference
Edit
On the 20th of April a meeting will be held by PIGER concerning the proposals on the election investment.
Special Elections Debate
Edit
After many
MOTC
stepped down mid-term elections were held. Soon after the annoucement
Marcus Villanova
organized the first known debate on May 16th 2010, the attendees are:
See also
Edit
Community content is available under
CC-BY-SA
unless otherwise noted.