The Frame (outside)


The Frame (outside) is a Lovian satire magazine. It was first published in early 2010 with an edition on Haiti. They claim to "[bring] you the news that all other media try to hide." No-one knows for sure who the editorial staff is and if they themselves take their stories serious. The satirical newspaper got its name from the phrase to get framed which means 'to be the subject of a deluding scheme'. Regaliorum (Shō Kitana) 16:39, August 9, 2010 (UTC)
News
About us
The emperor has won
It seems the evil forces have finally established their dominion over our Congress. The axis of destruction, formed by PM Yuri Medvedev and King Dimitri I, has been able to crush the last meaningful opposition; The Liberal Democrats are no more. Yes, dear fellow, you read that sentence again. Those priceless defenders of democracy have been eroded by popular parties like Walden. The WLP used to be a libertarian party with a free spirit, but today she is in the hands of the communist thugs. Walden has been used as an instrument to secure the demise of the real liberals.
After silencing the IGP and destroying the LD, the next move is predictable: Walden will become a center leftist party and a close friend to the CPL.nm. Together those two will make Congress the stage of their phony democracy. When in the next elections the communists and waldeners would obtain a two-third majority you can bet on it that the Constitution will be altered, or should I say dismissed? Within a few months Lovia will be ruled by decree, leaving no room for personal or economic freedoms whatsoever. Our final hope rests with the CCPL, a party the communists have tried to attack before. But with this bastion of conservatives being poshed towards the edge of marginality, I would't count on any bettering being close. - Captain Pasha
Change has come to Lovia
Are you ready for the ass-kicking new government? We sure are! After the votes were counted it became clear that Yuri Medvedev had won himself a second term. Sometimes I can't help but think that the outcome of the elections was determined before the voting even started. Don't believe me, just take a look at all the indirect evidence. Anyways, Medvedev did a good job trying to cover up the entire election scam; he created a so called 'balanced' government. There may be more parties in Congress than ever before, the new office is merely a cloak to hide the personal dictatorship of mr. Medvedev.
The plans of the new government are also very clear to us: destroy the Lovian democracy by means of an all-out reform offensive. They are forcing the change down our throats whilst we are clapping our hands and yell cheap slogans such as 'conversation, coherence, cooperation'. Man it makes me sick! We shouldn't be shocked, after all the United States became communist in their previous elections too. Some of our journalists, who are deployed far behind enemy lines, have gathered intell on the re-election of mr. Medvedev. The material they collected proves that mr. Medvedev got support from various terrorists for his campaigning and blackmailing. Some names that keep popping up are Kim Jong-il, Osama bin Laden and Father Christmas. - Captain Pasha
Help Haiti Lovia

The whole world is reaching out in an attempt to help our fellow man in Haiti, which was recently hit by a devastating earthquake. A country that was literally plundered when it was a French colony and is now one of the poorest nations in the world needs our help. If you believe the big government media that is. Their propaganda machine has gone to a higher state of alert in an attempt to raise money to rebuild the 'pearl of the Caribbean'. A noble initiative for sure and of course we feel sorry for the starving people we see on television; all stuffed together in a lifeboat, waiting for something to happen. We of The Frame (outside) have just one question: what about the Dominican Republic? Where are all the Cuban victims of this disaster? Isn't it weird that only Haiti got struck and that all of its neighbors were spared?
We will give you the answer to that: you are all being framed! All around the globe nations find themselves in trouble paying their bills and raising taxes are no option in these hard times. The solution was a simple one; who would not donate some money to little children who used to have little and now have nothing. I must admit it is genius. All they had to do was bombing the Port-au-Prince airport, shoot some footage and ship some units to the country to scare of tourists. I don't what to know what happened to those who were on holiday but we all heard about people who 'are missing' or 'died during the earthquake'. I hope that at least the Haitian government is paid well for their part in the scheme. - Captain Pasha
The Frame (outside) brings you the news that all other media try to hide. We can not actually tell you who we are, because the authorities would shoot us in the back of our heads if they knew our identities. Nonetheless, we keep risking our very lives to tell you the truth about the economic crisis, global warming and sushi recipes! Keep buying this newspaper from 'you know who' and support our struggle. Yours truly, Captain Pasha.
Snapshot
In this section we present a revealing picture. We found this illustrious figure torturing a 'reactionary' in the presence of the Prime Minister. Beware of this villain, for soon he will determine our prison policy.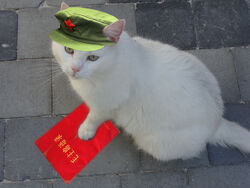 The comrade isn't just a fairy tale!
Between the lines
We lifted these sentences from the recent chattering between Lovians, let them speak for themselves.

Lennon and Greenday both are Pinko's.
The PM on his allies in the world of popular entertainment.
I just might send those two to 'political re-education'.
The PM treating people who have a different opinion with forced labor and indoctrination.
It's not fair to quote me like that, I was just having some fun.
The PM on why torturing fits his idea of fun.
You're putting everything out of its context!
The PM criticizing the liberty of the press.
If you continue like that I'll sue you!
The PM treating to shut down our newspaper.
We will break the enemy
The enemy is the capitalist beast
We will break him and crush him
And make the world red
Suck on that, capitalists!
A government-approved children's rhyme put to music.
Community content is available under
CC-BY-SA
unless otherwise noted.