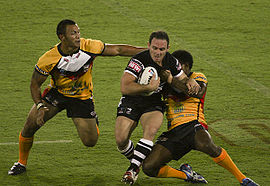 Thomas Jank
is a
Rugby
player for the
super 14
team
New Zealand Hurricanes
. Thomas was born in
Bayside
,
Sylvania
, July 5th 1980. Jank and his Family moved to
New Zealand
at the age of 15, There he picked up rugby and started playing it at an amature level. In 2000 he was picked to the
ACT Rumbies
there for 9 years he scored 98 tries, 12 drop goals(or three point kicks) , and was a part time kicker and made 48 conversions, overall he scored 622 Points and was rewarded. In late 2009 he was traded to the Hurricanes, since the 2010 season bagan in Febuary he scored 10 tries, 6 drop goals, and 10 conversions. Even though He is one of the greatest wings of all time he is some times insulted that he has never won a championship. In Lovia he plays for
Lovian National Sevens Team
,
Sylvania State Sevens Rugby Team
, and is a spokesperson for the
Players Union of Lovia
.
Related Pages
Edit
Community content is available under
CC-BY-SA
unless otherwise noted.