Alexandru Latin
Name
Alexandru Latin
Full name
Alexandru Sergiu Latin
Sex
Male
Born
April 24, 1975, Noble City
Deceased
December 3, 2010, OBS Studios, Hurbanova
Home
Noble City
Functions
Member of the Congress
Secretary of Industry, Agriculture and Trade
Languages
Dutch, Romanian, English, French, Spanish, Italian
Religious
stance
Eastern Christian
Member of the Congress
Term
February 1 2010 - December 3 2010
Election
Federal Elections, 2010
Election outcome
11.3%
Alexandru Latin was a Lovia-Adlibitan statesman, politician and businessman and a wikiwide diplomat and citizen. He was an important statesman and reformer in Libertas, in which he became Prime Minister after the June 2008 Elections, and citizen in Lovia. Alexandru Latin had both Romanian and Dutch roots and had become a major Adlibitan and Libertan inhabitant. He was often seen as one of the most international wiki citizens.
Latin was murdered while being a guest on the Oceana Late show of December 3rd, notable as the first MOTC to be assassinated.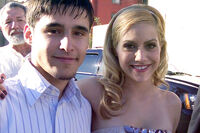 Imprisonment
Edit
April 24th 2008, he and Oos Wes Ilava were found guilty and convicted in a Supreme Court trial, over the events relating to the declaration of the Free Republic of Hurbanova. On November 7th 2009, Alexandru Latin was released, though his punishment was extended for an unknown reason. The Alexandru Latin Trial is known as the most controversial in Lovian history, because Latin was unable to defend himself and because the case had been judged by a biased judge. King Dimitri I apologized in May 2010 for the circumstances in which the trial had taken place. Latin and Ilava both claimed for a compensation.
Alexandru came back to society and started a newspaper, called La Quotidienne. Always eager to take part in politics, he became a 'provisional congressman' in November 2009, chairman of the neighborhood Little Europe, mayor of Train Village and eventually founded the Liberal Democrats party which became the largest in Congress. In the Federal Elections, 2010, Alexandru Latin ended on the second place, almost becoming Prime Minister, defeated by Yuri Medvedev.
Alexandru Latin assassination
Edit
Latin, who revealed a part of the dark side of Lovian politics, making public the Villanova exchange of votes controversy in November 2010, was shot down on live television on the show of Oceana Late on December 3rd, in which he would debate with Villanova for the first time since the media publicity about the attempted bribery. Latin died on spot, while members of the crew were got injured and Villanova was the only one not to be hit. According to the police, it was the criminal's specific goal to liquidate Latin. Latin is the first Lovian politician to be murdered. He died young at the age of 35.
See also
Edit
Community content is available under
CC-BY-SA
unless otherwise noted.