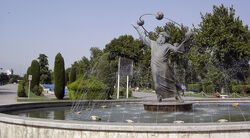 Beijing Park (Chinese: 北京公园) is a recreational area in Clymene's capital city of Sofasi. The park is named after the capital of the
People's Republic of China, Beijing. The park was constructed between 1982 and 1984. On the 10th of March, 1984 the park opened for the public. This park is situated in the middle of Sofasi. Nearby the park is the Sparrow Marina, the Pacific Ocean and Sofasi's commercial center.
Beijing Park provides pathways for walking and shade for picnics and relaxation. The park has become a popular meeting place for young people and a picnic area for families.
Community content is available under
CC-BY-SA
unless otherwise noted.