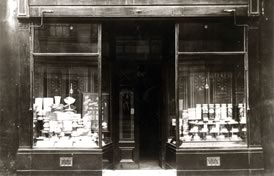 The Cabaret Le Baccarat is a famous Noble City cafe-bar/ cabaret. It is located in 1B Libertas Avenue, Trading Quarter, NC, hidden away from view.
History of 1B Libertas Avenue
Edit
1B Libertas Avenue belonged to Magnus Cray, an old Scotsman. He died in 1904, and his son converted the house into a small store, with living quarters in the back.
Cray Jr. sold the store in 1909 to a Mr. Loving and a Mr. Solemn. They turned the place into a brothel, with the storefront acting as a disguise (facade). Nevertheless, the Noble City Police raided the place in 1911 and arrested Loving and Solemn. The place was bought by Silvia Coningham and turned into a cafe, which was not too successful.
Speakeasy
Edit
She sold the place in 1917. American Joe Swillinger and Frenchman Philippe Turner turned the building into a speakeasy bar and gambling house selling illegally made liquor form San Francisco. Swillinger and Turner were against Prohibition in the US. Many people would come and gamble away money. When the prohibition period was over in 1933, they sold the place to Jacques Darracq and left for America. Darracq turned the place into a cafe-cabaret.
Cabaret Le Baccarat
Edit
Darracq turned the place into a Cabaret, named after the old gambling speakeasy that previously existed. Darracq started a Cancan and chorus line show to entertain customers. The cabaret retained illegal gambling services untilo gambling was legalized in the 1990's. Le Baccarat has become very famous, attracting many people because of its infamous and hidden history. And though it no longer has anything to hide, it still keeps that feeling.
Photo Gallery
Edit
Truly one of Lovia's best restaurant. It has that authentic 1920s look, excellent food and drink, and still feels like a classic speakeasy.

-Cinq Etoiles

Red Dot Award, 2007
Community content is available under
CC-BY-SA
unless otherwise noted.