The Capitol is the monumental building in which the Lovia Congress debates and works. It is located in the heart of Noble City: Downtown. It's a very popular tourist attraction as well, ranked first in Lovia.
Building History
Edit
The Capitol was constructed in 1876. Fashioned only to serve a small government, in recent years the capital has gone under several transformation with the development of the Lovian population. The building, designed by the famous Lovian architect Mirnam Fletcher (founder of Adams and Fletcher), is still in use, although there were lots of extensions, renewing and redecoration's.
The design of the structure is well determined neoclassical. The interior of the building shows elaborate designs giving image to the nations history and progression, portraits of former Prime Minister's of Lovia and several former MOTC 's can be found in the hallways. While the Noble City skyline have developed in recent years it remains ranked highly on the list of tallest constructions in Lovia.
The structure is one of Lovia's top tourist hot spots, with an average 52,234 vistors every year. Its decorated every year to follow the seasons, such as dressing the capital with pumpkins for Halloween, or placing Christmas Tree in front of the capital for Christmas. The capital is also home to several parades, fire work shows and musical performances, most of which are typical on Lovia's National Day.

East Wing
Edit
Central Hall
Edit
West Wing
Edit
Tourist attraction
Edit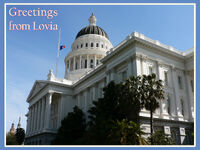 The Lovian Capitol is the No.1 tourist attraction in Noble City ánd Lovia. Every year lots of international tourist, mostly from the USA, Europe and Libertas, visit the beautiful Capitol in the center of Noble City. Guided tours in group are possible and very cheap.
Guided tours
Edit
under construction
References
Edit
↑ Largest number of visitors in Noble City.
↑ Administered by the Department of Finance.
See also
Edit
Community content is available under
CC-BY-SA
unless otherwise noted.