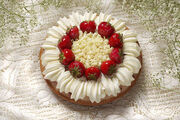 De Limburger (English: the Limburgian) is a shop chain which currently only has two shops in Lovia. You can find everything of the Limburgish culture here. You can buy different types of 'flaaje' and you can buy dictionaries in all Limburgish dialects.
Products
Edit
We've got many products in our store.
Dictionaries
Edit
We've got dictionaries for over 300 Limburgish dialects, like Mestreechs, Remunjs, Mofers, Saerums and Häör.
Newspapers
Edit
We sell newspapers like 't Kèrkeblaedje, 't Noeatebelkske and De Lèmbörger.
We also sell many drinks (Limburgish drinkes) We sell Limburgish beers (beer) Limburgish wine (wien) and other typical Limburgish drinks like sjuumke trèkke.
We currently sell the following Limburgish 'flaaje' which are baked in our own bakery:
Appelflaaj (a vlaaj with apples)
Keseflaaj (a vlaaj with cherries)
Linseflaaj (a vlaaj with lentils)
Moereflaaj (a vlaaj with carrots)
Our shops in Lovia are located on 7 Vlackstreet, Hurbanova and 10 King Arthur II corridor, Drake Town Mall, Drake Town, Hurbanova. Both in the state of Oceana.
Community content is available under
CC-BY-SA
unless otherwise noted.