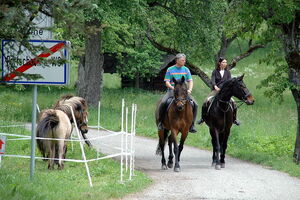 Federation Park is a series of Lovian natural parks. It covers several parts of Malipa. In total it measures approximately 2,764 acres (11 km²). It is the largest public park in Newhaven, more than twice the size of the second largest park. It is operated by the Newhaven city government.
The river Abby meanders accross the northwestern section of the park where one third of the spit forms some kind of an artifical beach. The northern area of the park is dominated by the partially covered Federation Square. This covered area of the park is located in the most northern part of the Federation Square buildings.
In the southern part of the park, near Pines, there is a baseball field, a playground for children, a picnic area, a tennis court, a parking lot and several trails for walking/biking/running. Moreover, there is a large running track that was recently renovated. The renovation made part of Malipa's attempt to obtain the 2007 Summer Award. This track has a bleacher section off to its side and surrounds a grassy area that is used for soccer games.
Small paved pathways for bicycles link the two open-air parts of the park which is also home to the Newhaven Equestrian Center where visitors can ride horses through the park's trails, enjoy pony rides or obtain riding lessons.
Community content is available under
CC-BY-SA
unless otherwise noted.