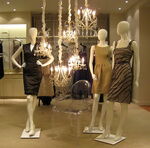 Forwomen is a Lovian shop where clothing for women is sold. Located in both the the Atrium Center in Adoha and the Tower Mall in Downtown, Noble City, the shop has been open since January 2008 "with a splendid new tempting collection for the discerning fashion loving ladies from Lovia and abroad. We take pride in offering women's clothes from all the best clothing and fashion designers for women in Lovia."
Being the exclusive dealer to the famous Gucci dresses made with the finest material, Forwomen offers the latest creations of this renowed designer house. "Come and also have a look at our accessories. You will leave our shop with everything you may need to give yourself a real treat," the shop owners said.
Fashion show
Edit
Fowomen's fashion shows are the events put on by our fashion designers to showcase the upcoming line of clothing. The models walk the runway dressed in the clothing created by the best designers worldwide. Occasionally, their fashion shows take the form of installations, where the models are static, standing or sitting in a constructed environment such a a entirely renovated Loft, a sculpture park or even the Lovian Oceana Beach.
Photo gallery (New York fashion show)
Edit
See also
Edit
Community content is available under
CC-BY-SA
unless otherwise noted.