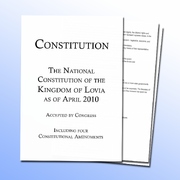 The Fourth Amendment is an amendment to the Lovian Constitution that was proposed in April 2010 by King Dimitri I of Lovia. The Fourth Amendment only amends Constitutional Article 11 that concerns national symbols and the language issue. Most notably, the amendment put an end to a two year long situation of uncertainty about what languages were considered official, national or generally accepted. The Fourth Amendment settled the issue by naming "English" the "national language" in stead of "(American) English", and defining "Lovian English" as "[the] variety of English spoken and written by the Lovians." The issue that caused most controversy, was the recognition of the Oceana language as a "regional minority language" that must be protected from extinction.
The amendment was accepted in Congress by a 81.82% majority on April 20, 2010.[1] Due to the resignation of two Members of the Congress during the voting process, there was some doubt about the validity of the vote.
Pierlot McCrooke, until April 16 2010 a WLP Congressman, wrote and proposed an alternative version of the bill. This version was criticized by Oos Wes Ilava and King Dimitri and never made it to the Second Chamber.
This page or article section is under construction.

You are welcome to assist in its construction by editing it. You may want to discuss on the talk page before making major edits.
References and notes
Edit
See also
Edit
Community content is available under
CC-BY-SA
unless otherwise noted.