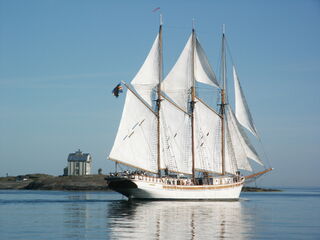 Francis II was the ship with which the Founding Fathers crossed the Pacific Ocean between California and the Lovia Archipelago in 1872. The ship, schooner, was built in San Francisco in the late 1860s and left that city for an adventure in the west in 1872, chartered by Arthur Noble. It later returned twice and was sold in 1876 in the The Harbor[1]. The ship was restored in the 1910s and is now at the Old Harbor as a tourist attraction.
1867: San Francisco: the Francis II was built on a shipwarf in San Francisco. It was used for oversea transportations to Los Angeles and Northern California.
1872: San Francisco: Arthur Noble chartered the Francis II schooner for a travel into the unknown.
1872: San Franscisco - Noble City: Founding Fathers went to Lovia.
1872: Noble City - San Francisco: some extra materials were necessary.
1873: San Francisco - Noble City: new materials were brought to Lovia.
1875: Noble City - San Francisco: King Arthur I went back to place advertisements on Lovia in newspapers and to bring new people to the archipelago.
1876: San Francisco - Noble City: King Arthur I returned to Lovia with more than 150 at his side.
1876: Noble City: The ship was sold to a rich merchant in The Harbor.
1911-1913: Noble City: The ship was progressively restored by its owners.
1942: Noble City: The ship is sold to Congress, who restores it again.
1945: Noble City: The Francis II is opened to public in the Old Harbor.
1991: Noble City - San Francisco: The Francis II makes its last trip on ocean returning to San Francisco for a heavy restoration.
1992: San Francisco - Noble City: The schooner returns to the Old Harbor and is re-opened to the public.
References and notes
Edit
↑ The archaic name of the Old Harbor in Noble City.
See also
Edit
Community content is available under
CC-BY-SA
unless otherwise noted.