This page or article requires wikifying.


This includes revision of language, style, layout and context. Unwikified articles will be deleted.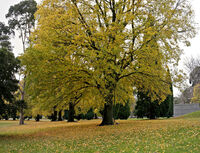 Garry James was the a local Lovian politician. He was mayor of Train Village from 2002 to 2008. He died a few months after ending his term in the June 2008 Floods. Garry James had his own bible publishing company called MultiGood Bibles. Each bible contained a foreword by Garry and his wife Henrietta James-Cookeman. His company sent 40 bibles to the Train Village town hall. Atheists and democratic pluralists began fearing that neutrality and pluralism of local government was lost. This is known as the Garry James Bible scandal.
In memory of this special person who has been fighting for days against the rising water and paid for it with his life, Pierlot McCrooke and Lars Washington decided to plant the Memorial Tree in the community park of Train Village. It is hoped when visitors stroll through the village, they will make a rest under the enormous tree and remember the brave fellow citizens who gave their lives for the community. Fire fighters, soldiers, policemen and -women and especially the mayor of this little community. "May they all rest in peace", Lars Washington said.
Community content is available under
CC-BY-SA
unless otherwise noted.