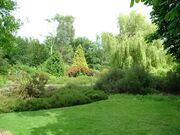 Greenpark is the largest of the parks in Newhaven. It is actually a series of four parks, spread through Abby Springs. The park covers 955 hectares and is Lovia's largest city park.
The Elisabeth Plantation is an important and attractive woodland garden, and is a protected view. The Park contains notable buildings, four of which, plus the whole wall of the park, are listed buildings.
Pembroke Lodge and some associated houses stand in their own garden within the park. Pembroke Lodge is now a restaurant. There are three other houses, apart from the gate-houses: Thatched House Lodge, Holly Lodge, White Ash Lodge and Oak Lodge. Holly Lodge contains a visitors' centre (bookings only), the Park's administrative headquarters and a base for the Newhaven Police's Royal Parks Operational Command Unit.
The park's open slopes and woods are based on lowland acid soils. The grassland is mostly managed by grazing. The park contains numerous woods and copses, some created with donations from members of the public. One such area is the Elisabeth Plantation, a stunning woodland garden which was created after World War II from an existing woodland, and is organically run, resulting in a rich flora and fauna. It is a major visitor attraction in its own right. Another is Nobles' Copse, a small triangular enclosure on the woodland hill halfway between Noble Gate and Railway Gate.
Another is Bone Copse which was named in 2005. It was started by the Bone family in 1988 by purchasing and planting a tree from the Park authorities in memory of Bessie Bone who died in that year. Trees have been added annually, and in 1994 her husband Frederick Bone also died. The annual planting has been continued by their children.
Greenpark is a site of special scientific interest, a national nature reserve and a special area of conservation for the Californian stagbeetle. Herds of red and fallow deer roam freely within much of the park. A cull takes place each November to ensure numbers can be sustained. It is an important refuge for other wildlife, including squirrels, rabbits, Californian stag beetles, insects plus numerous ancient trees, and varieties of fungi.
Richmond Park supports a large population of what are believed to be ring-necked parakeets. These bred from birds that escaped or were freed from captivity.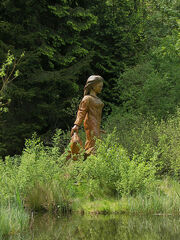 A park is not a park when there is no sculpture or ornament to gaze at (dixiet Aesopos, alias Lars Washington). On this 11th August 2010, he therefore decided to offer a replica of Frau Holle as seen at the Frau-Holle-Teich in Hoher Meißner.
Amazing how fast the news about the sculpture has spread. Almost instantly, curious people came to take a good look at the wooden creation that seemed to have taken over the view on the little pond in the park.
It really became an eye catcher.
Community content is available under
CC-BY-SA
unless otherwise noted.