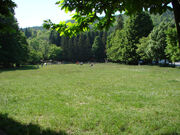 The Hurbanova Central Park is a Lovian urban park in Downtown Hurbanova.
The park has existed since 1884 and was created just after the big fire of Hurbanova. Before the fire, the lot was occupied by miners' houses.
There are no fountains or statues to be found in the park. The park has got a playing ground and a parking lot. The largest part contains grasslands. The Hurbanova Central Park is surrounded by trees. Well-known is the extraordinary sight on the hills south of Hurbanova.
A local urban tale has it that the park is haunted. People also say that the park was once a cemetery. Many paranormal experts say it is haunted by many ghosts and is a major tourist attraction.
Mary Gilbersfield
Edit
Mary was a passer by when she was raped and killed in the park by an attacker. She haunts around the tallest parts of the hills and usually will push or touch people. She is not a freindly ghost and is scene alot in apporation form. Her voice has also been picked up various times on recorders saying "Kill." and "Rape."
Jack Erikson
Edit
Jack was a miner killed in the great Hurbanova fire. He is a nice ghost and is very active and shows up around the west forest. He was caught saying "Pain...Pain." and other things like "Love you."
Other/South House
Edit
There are many other ghosts. In 1923 some land was granted to a local family to build a house in the south of the park. The first time a family moved in the wife died they soon moved out then another family moved in and were killed by the father of the family and then killed himself. The house in a now owned by the park and is a toolshead and a information place. Even in 2003 a secretary had a heart attack there. Apparently to all paranormal experts all of them still haunt the place.
Community content is available under
CC-BY-SA
unless otherwise noted.