Ilava Mall is a shopping mall located in East River, Newhaven. It is named for Oos Wes Ilava. Space is now to let. There are three levels for shopping, as well as an underground carpark and a rooftop farming community, similar to the Atrium Center. It is designed as an 'urban environmentally conscious area' as well as to show how Oos can have his name on anything.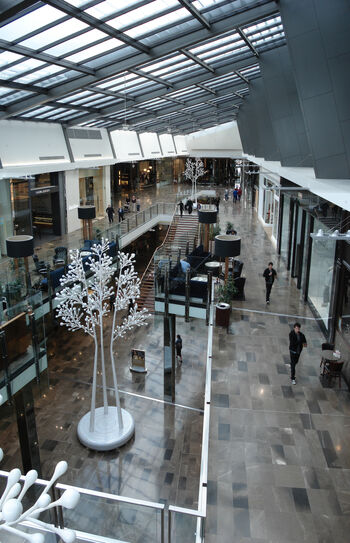 The mall was opened in July 2014 as 'The Arcade' but in August 2015 it was bought by Jonathan del Fondra and renamed to the Ilava Mall. Citizena across the road is considered as part of the complex.
1st Floor
Edit
FOR SALE
FOR SALE
FOR SALE
Department Store FOR SALE
FOR SALE
FOR SALE
Passage
FOR SALE
World of Media
FOR SALE
FOR SALE
FOR SALE
Public Tennis Court
2nd Floor
Edit
This page or article section is under construction.

You are welcome to assist in its construction by editing it. You may want to discuss on the talk page before making major edits.
3rd Floor
Edit
On the 3rd floor, there are offices.
The Garden Café
SOLAR PANELS
Energy
SOLAR PANELS
Energy
Community Swimming Pool
Gardens
Vegetation
Gardens
Vegetation
Site Office
Gardens
Vegetation
Gardens
Vegetation
On the rooftop, the swimming pool is open on days above 25 degrees C, between 8.00 am and 6.00 pm. The Garden Café is open between 9.00 am and 5.00 pm (Mon-Fri), 9.30 am to 3.00 pm (Sat) and closed on Sunday.
Community content is available under
CC-BY-SA
unless otherwise noted.