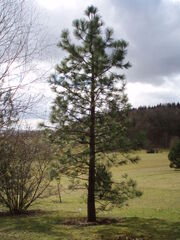 The Isle of London (local: Oster o'Londine, IPA: /'ostɛʁ o'lond̪inʲ/) is one of the two islands of the the Lovian state of Oceana. The island is named after the English city of London. Together with the Isle of Frisco it forms the City Archipelago. On November 1st, 2011, during the Lovian Civil War, Oslobodenia exiled from Hurbanova after Hurbanova was captured by UNLOR, so the Oslobodenians retreated to the Isle of London and made the settlement Oslobodenia 'Oshenna With a population of 300 people, this was the only settlement on the island. Now it is deserted.
The highest point on the Isle of London is Tollwich Hill, which is 32 meters high. The hill is barren, with no trees but only scarce patches of grass and shrubs growing on its soil.
Flora and fauna
Edit
The island is very small and doesn't have much fauna, there are only some small animals, mostly birds, and some livestock left by farmers. The pinus yeffreyi is the most common tree on the island. Grasses are also well represented.
See also
Edit
Community content is available under
CC-BY-SA
unless otherwise noted.