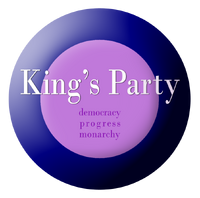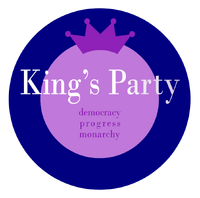 The King's Party was a major political party of Lovia that played an important role in national politics from 2003 through 2007. It was founded as a moderate, centrist, monarchist party, but by 2003, it had begun to put a greater focus on the realization of social initiatives. It was characterized as monarchist, progressive and reformist. It was led by Judy Almore, the first female Prime Minister of Lovia. As the party was the main non-regionalist and non-republican party in opposition to the then-dominant party Freedom First, its ideology drifted leftward during the period of the first five Congresses, dropping many of its monarchist objectives (keeping the name for the historical value), and many of its members joined the centre-left Progressive Center Party after the disbandment of the King's Party.
The King's Party was founded already in 1987 by a group of Newhaven monarchists. It was elected to the 2003 Congress and has held two to four seats until 2008. During the 2007 Congress, the party held four seats and led the Almore coalition government with the liberal Freedom First party. This government was regarded as dysfunctional due to the opposing ideologies of the two parties. In October 2007, Almore announced that she was resigning as party leader and would not run for re-election. After this, a power struggle ensued, and the leftist, non-monarchist members of the party, who had joined in opposition to F1's dominance of Congress, left the party, mostly joining the centre-left Progressive Center Party, founded by the later Prime Minister of the 2008 Congress, Yuri Medvedev, who had been an important member of the party since election as an MOTC in 2005. Lars Washington, a centrist monarchist, became an independent. The King's Party was unable to re-elect its remaining congresswoman, Connie Brown, in 2008, and decided to cease all activities in February 2008.
Congress seats
Edit
See also
Edit
Community content is available under
CC-BY-SA
unless otherwise noted.