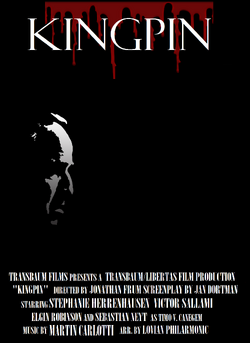 Kingpin is a 2011 Lovian-Libertan film based on the life of crime boss Mama Luigi. The film is partly based on the book Kopstuk. Leven en tijd van Mama Luigi, but some events are changed to make it "more interesting". The film was written by Jan Dortman and directed by Jonathan Frum.
Background
Edit
Mama Luigi (1944-2009) was a notorious Libertan crime boss. Luigi, who lived in Lovia, emigrated to Libertas in 1996 since the situation was getting "hot". He was behing the "Libertas' Christmas Massacre", where 7 members of the Nikolai crime family were murdered. He and his adopted son, Bruno Banda, were involved in other murders and the Second Civil War. In 2009, elite Libertan troops had him killed in the United States, sparking further violence at home.
Mama Luigi is an important Lovian criminal who has moved to Libertas. Though well known in Lovia for several grisly murders, he has yet to make a name. He soon makes an enemy in the Nikolai family, the established lords of crime. In 1997 he orchestrates a plan which ends up killing 7 rival gangmembers. He, along with Dr. Magnus' Libertan Christian Democrats and the Nikolai family are soon involved in bloody war, where he loses his oldest son. Soon after, he goes into hiding, only to come out when his rival, Tom Apones, snatches back the title of Libertan "capo di tutti capi". Soon, he and his adopted son Bruno are involved in the Second Civil War. While having taken control of the town of Civitas Libertas, he was arrested. But, his son and several rebels were able to free Luigi, and at the same time created much more damaged and terror. But, Luigi's days in freedom were numbered and he soon fled to the United States. When being busted from jail, Timo Van Canegem, a secret agent working for Apones assembles a special task force to hunt down and kill him. Luigi remains hidden for six months, but when he uses a credit card for a purchase, the agents come down on him and he is murdered in a hotel room.
The music for the film was fully done by Brunanter composer Martin Carlotti, known for his work on various other films. The music he wrote is very dramatic and dark in nature, significally helping in setting the tone for the film.
Film locations
Edit
Wikistad - Molenbeek - Newport - Civitas Libertas - Muntegu
Miami, St. Georges, Markville
Community content is available under
CC-BY-SA
unless otherwise noted.