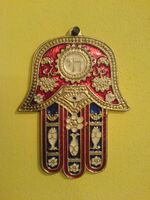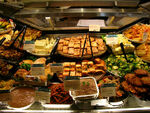 L. Horseraddish is a store in Sofasi, Clymene. It's named after 'Horseraddish', which is the surname of Louise who is a French girl with Jewish ancestors. Louise arrived in Lovia and wants to start a shop offering kosher food.
Kosher food in accord with halakha (Jewish law) is termed kosher in English, from the Hebrew term kashér, meaning "fit" (in this context, fit for consumption by Jews according to traditional Jewish law). As one might not be aware of, Kosher food is very tasty and healthy!
The shop should have been ready by the end of March 2008 but unforeseen circumstances lead to Louise's decision to postpone the opening. In fact she had received a threatening letter saying that if she would open her shop, things would not end very well for her... she was not welcome in Clymene!
On December 31, 2007 Louise hung a hamsa on the entrance of her shop.
Hamsas are popular as charms and decorations in Israel and are not considered to have any Islamic connection other than the Arabic name. Among Jews, fish are considered to be a symbol of good luck, so many hamsas are also decorated with fish images. Hamsas are incorporated in wall plaques, mobiles, keychains and necklaces. Sometimes they are inscribed with Hebrew prayers, such as the Sh'ma, the Birkat HaBayit (Blessing for the Home), or the Tefilat HaDerech (Traveler's Prayer).
November 15, 2009
Edit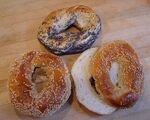 Finally, on November 15, 2009, Louise received her Hechsher which she proudly displayed at the large bay window next to the entrance.
L. Horseraddish finally opened its doors officially!
Amongst a wide selection of sheep- and goatmeat, also local deer is available. In a separate corner of the shop, fresh dairy products with delicious cheeses are available at very reasonable prices.
Daily at 6:00 a.m. sharp, Sarah, (Louise's best friend) delivers freshly baked kosher bagels which are just out of this world! This first day already, at 9:00 am, no single bagel was left.
Community content is available under
CC-BY-SA
unless otherwise noted.