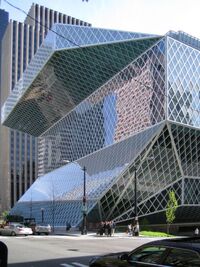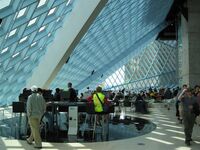 The Malipa Central Library is the flagship library of the Kings Public Library system. The 11-story (185 feet or 56 meters high) glass and steel building in Malipa, Newhaven was opened to the public on May 23, 2004. Adams and Fletcher designed the building and Lov. Construction Company was the general contractor. The 362,987 square foot (34,000 m²) public library can hold about 1.45 million books and other materials, features underground public parking for 143 vehicles, and includes over 400 computers open to the public. Over 2 million individuals visited the new library in its first year. The library has a unique, striking appearance, consisting of several discrete "floating platforms" seemingly wrapped in a large steel net around glass skin. Architectural tours of the building began on June 5, 2006.
The architects conceived the new Central Library building as a celebration of books, deciding after some research that despite the arrival of the 21st century and the "digital age," people still respond to books printed on paper. The architects also worked to make the library inviting to the public, rather than stuffy, which they discovered was the popular perception of libraries as a whole.
Although the library is an unusual shape from the outside, the architects' philosophy was to let the building's required functions dictate what it should look like, rather than imposing a structure making the functions conform to that.
For example, a major section of the building is the "Books Spiral," (designed to display the library's nonfiction collection without breaking up the Dewey Decimal System classification onto different floors or sections). The collection spirals up through four stories on a continuous series of shelves. This allows patrons to peruse the entire collection without using stairs or traveling to a different part of the building.
New functions include automatic book sorting and conveyance, self-checkout for patrons, pervasive wireless communications among the library staff, and over 200 public computer terminals.
Community content is available under
CC-BY-SA
unless otherwise noted.