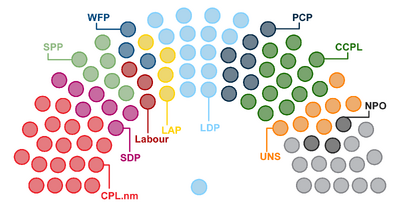 A Member of the Congress, frequently abbreviated to MOTC, is an elected Lovian politician with a seat in the Congress, Lovia's legislative institution. They are entitled to propose, debate and vote bills and other proposals. The Congress has consisted of 100 seats since the 2011 Second Congress was inaugurated.
Nomenclature
Edit
The official denomination, as it appears in the Constitution, is Member of the Congress. This is often abbreviated to MOTC (plural MOTCs), every letter seperately pronounced. Congressman or Congresswoman is also frequently used.
List of Congresses
Edit
Main article: Congress#List of Congresses.
See also
Edit
Community content is available under
CC-BY-SA
unless otherwise noted.