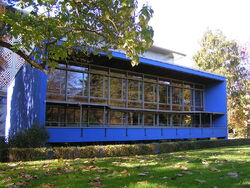 The National Bank of Lovia[1], abbreviated NBL was located in Mandarin Village on 6, Cresson Crescent.
Main article: Aventis National Bank.
NBL was the Lovian National Bank untill it fused with the Aventis Banking Company. It acted as a payment agent by conducting checking or current accounts for its Lovian customers, paying cheques drawn by its customers and collecting cheques deposited to the customers' current account.
NBL bank also enabled customer payments via other payment methods such as telegraphic transfers, EFTPOS and ATM.
NBL borrowed money by accepting funds deposited on current accounts, accepting terms deposits and by issuing debt securities such as banknotes and bonds. The bank lends money by making advances to customers on current accounts, by making installment loans, and by investing in marketable dept sucrities and other forms of lending.
Valuables
Edit
The bank vault at the NBL is was large reinforced room in the building where valuables were stored in one of the many safe deposit boxes in different sizes. At NBL, the vault was locked with a timed lock, to prevent thieves from taking the manager as a hostage during a robbery and bringing him back to unlock the vault late at night, which used to be a problem. It also prevented would-be robbers from putting people into the vault. The NBL vault also has an air vent to let fresh air into the vault should someone be inadvertently locked in.
References and notes
Edit
↑

Although not the National Bank, in terms of a governmental financial institution.
Community content is available under
CC-BY-SA
unless otherwise noted.