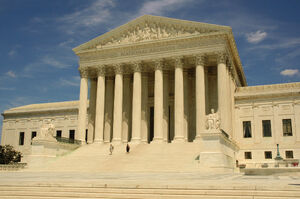 The National Archives are the archives of the Congress and other governmental institutions, such as the chambers, the Prime Minister or the Supreme Court. The National Archives are situated in Downtown Noble City, close to the Capitol. The National Archives building is a must see for tourist and is a loved building by architectural interested people, in the fine neogrec style.
Archives
Edit
All the discussions, comments and adjustments from the First Chamber are saved in here, as well as the votes and further comments on proposals from the Second Chamber. They are sorted by proposal, and not by chamber.
The most important and formal talks with His Majesty King Sebastian I and with the preceding monarchs are saved in the National Archives. Most of these are invitation, proposals for Royal Warrants and other formal questions.
The ruling monarch meets his Prime Minister, political advisors and allies in his Royal Office at Palati Daidalo.
Police Records Edit
All police records from the Federal Police and Local Police authorities are archived at the National Archives, including former cases and personal records.
All the orders of Congress, containing MOTCs, their controllers, their political parties, and the leaders of various political parties.
See also
Edit
Community content is available under
CC-BY-SA
unless otherwise noted.