Nicholasville is a mostly agrarian Lovian neighborhood of Train Village, Sylvania. It is a quiet place surrounded by great nature and lots of fields.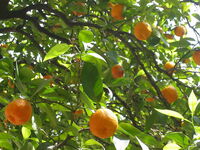 Until the sixties, Nicholasville was originally an agrarian region neighboring Train Village. However, the Highland Mines were closed and Train Village was obliged to find other sources of income. But it was not a chosen moment, as a famine was occuring in Lovia and many people had already fled to the city. The town of Train Village impoverished even more, until the hungry population decided to start farming in this fertile region. Many farms were built east and north of Train Village, in the current Nicholasville.
In the sixties, Train Village got the chance to flourish. Nicholasville, containing a part of all these farms, was being incorporated and after that the Town Hall decided to open the Nicholasville Market, where farmers can sell their products. Although a significant part of the TV'ers found a job in the tertiary sector of the economy, Nicholasville remained an agrarian region.
Agriculture
Edit
Nicholasville has become a future focused area to the Lovian government. Intensive brainstorming with all parties involved resulted in an adventurous blooming organic agriculture in this newly developed Lovian countryside. Worldwide, oil shortages being one of several factors making organic agriculture and other sustainable farming methods challenging, Lovian farmers have begun raising crops such as corn for non-food use to help mitigate peak oil.
Neighborhood map
Edit
*3 - Katrina Street
*4 - New Orleans Street
See also
Edit
Community content is available under
CC-BY-SA
unless otherwise noted.