Noble City General Hospital

Name
Noble City General Hospital
Type
Public healthcare facility
Product
Medical Care
Founded
1876
Headquarters
Noble City
The Noble City General Hospital is the main hospital in Noble City, and the largest in Lovia. The hospital is based in Trading Quarter, Noble City, and was originally founded by Stephen Robinson. The hospital is also affiliated with Blackburn University.
The Noble City General Hospital was founded in 1876 by Founding Father Stephen Robinson. He built it in the center of the small new capital Noble City, which is now the Trading Quarter. It burned down in 1899 and was rebuilt in Little Europe in 1900. After twenty years the small building no longer had the capacity to serve the rapidly growing settlement, and was relocated to Transcity. Some of the parts of the current hospital still date back from the 1920s, but it was heavily renovated in the seventies. In 2011 the hospital was moved to the Stephen Robinson Pavilion at Blackburn University, which had housed portions of the Health and Medicine Department, and a local medical center. Since then the hospital has become affiliated with the University, benefiting from its large research departments. Medicine students also benefit since they can train as aides or nurses at the hospital.
General ward
Edit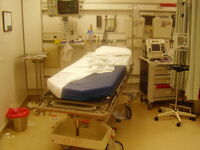 The General ward focuses on urgent and non-urgent issues. Here one can find the Emergency Room, Trauma Center, Burn Unit, Coronary Care Unit, Post Anesthesia Care Unit, Nursing Unit, Maternity ward. Basic surgery is also carried out here.
Advanced Care and Surgery
Edit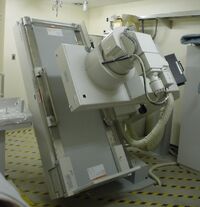 The Blackburn University Center for Advanced Care and Surgery is a ward of the hospital that specializes in surgeries and specialized operations. Many patients here are transferred over form the general wards. This hospital was opened in 2011 to relieve the strain on NC's general hospital. The hospital specializes in intensive care, cancer treatment, behavioral health and psychiatric services, rehabilitation services, radiology and other specialized treatment/surgery. It is housed in the Stephen Robinson Pavilion.
Community content is available under
CC-BY-SA
unless otherwise noted.