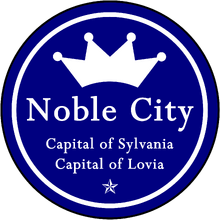 The Noble City Government was the local government of Lovia's capital Noble City. The entire city was governed by the Mayor of Noble City, with the assistance of neighborhood chairmen. The Noble City Government was based in the Noble City Hall, the City Hall in Downtown.
Local governments were abolished as part of the 2010 State Reform. Local government now falls under the states.
Noble City Mayor
Edit
The last Noble City Mayor was the then King Dimitri I of Lovia, who held this office since the death of the former King, King Arthur III. King Dimitri reformed Noble City in many ways, by building new neighborhoods, renovating and extending the transportation network and putting the city on the international map by making it a center of arts, politics and social life.
List of Mayors of Noble City
Edit
As mayor is a free function, no determined terms or elections are held for the government of Noble City. Everyone can become mayor unless the people do not support the candidate and will propose another one. This is the full list of Noble City mayors, as registered by the Noble City Government:
See also
Edit
Community content is available under
CC-BY-SA
unless otherwise noted.