Nordic Company

Nordic, best of fruits

Name
Nordic Company
Type
public company
Product
sodas
Origin
Lovia
Founded
1998, by A. Søren
Owner(s)
Walker Inc (100%)
Headquarters
Elisabeth Street 6 Old Harbor,
Noble City, Sylvania
(SY-NC-OH)
Profit
€ 3,7 billion (2006)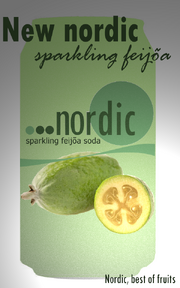 Nordic Company is a Lovia, company that produces carbonated soft drinks sold in general stores, restaurants and vending machines. Originally, it was a fruit juice produced by a Danish businessman, A. Søren, but a Lovian citizen bought the rights and transformed it into a soda. It is the most popular soft drink in Lovia.
Products
Edit
The company actually produces concentrate for Nordic, which is then sold to various licensed Nordic bottlers throughout the world. The bottlers, who hold territorially exclusive contracts with the company, produce finished product in cans and bottles from the concentrate in combination with filtered water and sweeteners. The bottlers then sell, distribute and merchandise Nordic in cans and bottles to retail stores and vending machines. Such bottlers include Nordic Enterprises, which is the single largest Nordic bottler in North America, Australia, Asia and Europe. The Nordic Company also sells concentrate for fountain sales to major restaurants and food service distributors.
The Nordic Company has occasionally introduced other drinks under the Nordic brand name of which the Nordic sprankling feijõa is the most commonly known and has now become a major Nordic drink. However, others exist, including Nordic Light, Nordic Orange, Nordic Lemon, Nordic Lime, Nordic Agrummes and the newest brand, Nordic Summer Blend[1].
List of all produces
Edit
Nordic[2] - 1998
Nordic Sparkling Feijõa - 1999
Nordic Light - 1999
Nordic Orange - 2001
Nordic Lemon - 2001
Nordic Lime - 2003
Nordic Agrummes - 2004-2005
Nordic Summer Blend - 2008
References and notes
Edit
↑ Nordic Agrummes was available from 2004 to 2005.
↑ Often referred to as Nordic Classic.
See also
Edit
Community content is available under
CC-BY-SA
unless otherwise noted.