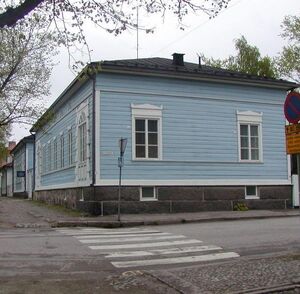 The Oceana Capitol, formerly known as the Oceana Court House, houses the local authorities of the state of Oceana and a local office for the town of Hurbanova. It's located in the town of Hurbanova. Remarkable is the size of the building. Compared to the other state government building it's quite a small building, but it doesn't need to be larger because of the low population in Oceana. The building is made of wood, like most other buildings in Hurbanova, and is built in 1902.
It used to be the building where the lawsuits of the Oceana State Court took place and the building was empty since the abolishing of the state courts in 2010. There were no plans for the future of it, but as it was a state monument it could not be demolished and therefore it remained empty. In May 2011 plans for a new use had been found. Because the old Hurbanova Town Hall became a cathedral for the Bishopric of Lovia the local authorities needed a new building and the Oceana Court House was a good alternative.
Functions
Edit
The main function of the building is housing the local authorities, but it has got other functions too.
Archives
Edit
Recent archives of Hurbanova and Oceana are kept in the protected safes. Generally speaking, older archives, until 1990, can be found at the archives in the Saint Urban's Cathedral. Lawsuit archives can also be found in the Oceana Capitol. Requests for insight in the archives are always done at the capitol building.
Help desk
Edit
If you've got questions or if you want to have permission for something, please visit our help desk.
Tourist information
Edit
The tourist information and gift shop can be found at 6 Danish Avenue.
Obkrush Hurbanova
Edit
An old Hurbanovan tradition shall relive! Obkrush Hurbanova will come back after twenty years. Obkrush Hurbanova is a tour in Hurbanova. You will see all important buildings of Hurbanova and you will taste the culture and hear all about the history of Hurbanova. The tour is available in Lovian English, Oceana, Dutch, Limburgish and German. Tickets are free and you can get one at the helpdesk of the Hurbanova Town Hall.
Diving the Oceana Reef
Edit
Diving the That Riffe is possible! There are a few things you need to do.
Take a divingsuite, if you have no divingsuite you can borrow one here.
Tell us when you are diving, so we can find you easier when you're lost.
You need a boat, you can use a boat of some friendly locals.
See also
Edit
Community content is available under
CC-BY-SA
unless otherwise noted.