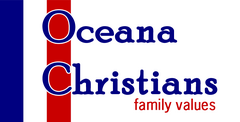 The Oceana Christians were a Lovian political party based in Oceana. The party was founded in 2004 by Oos Wes Ilava, who believed that the thoughts of the Christian people and the Oceana were not represented properly in Congress. The party leader Oos Wes Ilava was the only elected party candidate in the elections of 2005, 2006, 2007, and the first in 2008. A few months into the 2008 elections, Oos Wes Ilava left the party and shortly thereafter resigned due to the aftermath of the Hurbanova Crisis. Ben Opat' was elected later that year in the 2008 mid-term elections. Later, in 2010, Ilava went on to found the Conservative Christian Party of Lovia, which grew from a testimonial Christian party to a broad moderately conservative party. Ben Opat' resigned from the party in November 2008. The party ceased activities in September 2009.
Party leaders
Edit
March 2004 - March 2008: Oos Wes Ilava
March 2008 - April 2008: John-Paul Ský
April 2008 - May 2008: Gordon Hladovka
May 2008 - February 2009: Lance Freeman
February 2009 - September 2009: Jasper Fromfields-Hrád
Congress seats
Edit
See also
Edit
Community content is available under
CC-BY-SA
unless otherwise noted.