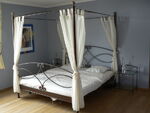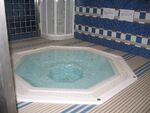 Oceana Hotel is a small and trendy hotel adjacent to the sandy beach of Hurbanova and with a window to the ocean.
The Oceana Hotel affords you the luxury of being yourself. A welcoming unpretentiousness, food being served all day and casual dining in the evening.
6 single rooms
6 double rooms
4 junior suites
1 ocean suite
Rates, full breakfast included
Edit
| room type | price |
| --- | --- |
| Single room (garden view) | $120 |
| Single room (ocean view) | $140 |
| Double room (garden view) | $160 |
| Double room (ocean view) | $180 |
| Junior suite (ocean view) | $220 |
| Ocean suite (ocean view)* | $300 |
The Ocean suite features 2 bedrooms, 2 bathrooms, jacuzzi, kitchen, terrazza.
Mainly due to the devaluation of the Lovian $, prices have been increased for all bookings made as from March 9, 2008 onwards.
Facilites and activities
Edit
Lobby restaurant open for breakfast, lunch and dinner daily.
Sunday brunch with international cuisine.
Tour of historic buildings, crafts commissary, bookshop, print shop
Recreational area: bicycle rental, fishing gear rental
Specials
Edit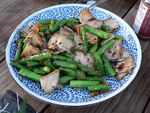 As it happens, quite some fishermen are keen to have their catch of the day served by our headchef. Recently, one of our guests returned from his first ever fishing experience with 3 red abalones. Our headchef turned this wonderful fish into an exquisit dish. The Oceana Aspargus Abalone became a favorite to all guests appreciating fresh seefood.
It is to be said: Oceana Hotel supports the strictly prohibited scuba diving for abalone.
Legal stuff
Edit
Sport harvesting of red abalone is permitted with a Lovian fishing license and an abalone stamp card. Abalone may only be taken using breath-hold techniques or shorepicking. Scuba diving for abalone is strictly prohibited. Abalone may only be taken from April to November, not including July. Transportation of abalone may only legally occur while the abalone is still attached in the shell. Sale of sport-obtained abalone is illegal, including the shell. Only red abalone may be taken; black, white, pink, and flat abalone are protected by law.
Guide Hôtelier Cinq Etoiles gives this hotel

. The overall quality of the Hotel was great and the food was really good.

Prix de Bon Valeur, 2007
Community content is available under
CC-BY-SA
unless otherwise noted.