This page might be in need of some refreshment, because it hasn't been edited for over one year.
If you know more about this subject or want to refresh the page, go ahead!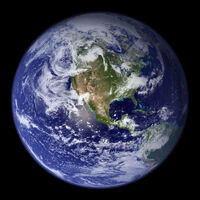 The Pacific Ocean is the largest of the Earth's oceanic divisions. It extends from the Arctic in the north to the Southern Ocean in the south, bounded by Asia and Australia in the west, and the Americas in the east.
At 169.2 million square kilometers (65.3 million square miles) in area, this largest division of the World Ocean – and, in turn, the hydrosphere – covers about 46% of the Earth's water surface and about 30% of its total surface. The equator subdivides it into the North Pacific Ocean and South Pacific Ocean, with two exceptions: the Galápagos and Gilbert Islands, while straddling the equator, are deemed wholly within the South Pacific. The Mariana Trench in the western North Pacific is the deepest point in the Pacific and in the world, reaching a depth of 10,911 metres (35,797 ft).
The Pacific Ocean was sighted by Europeans early in the 16th century, first by the Spanish explorer Vasco Núñez de Balboa who crossed the Isthmus of Panama in 1513 and named it Mar del Sur (South Sea). Its current name is however derived from the Luso-Latin macaronic Tepre Pacificum, "peaceful sea", bestowed upon it by the Portuguese explorer Ferdinand Magellan.
The Lovia Archipelago is situated in the Northern Pacific Ocean near the Californian coast. The ocean has played a major role in the economic development of Lovia, as well as in its political and cultural atmosphere.
See also
Edit
Community content is available under
CC-BY-SA
unless otherwise noted.