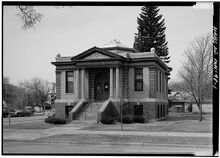 Pierlot Pizza is a Lovian chain of pizza restaurants. Founded by James Grey in 1983 as Niceria, it was renamed Pierlot Pizza in 2008 by its then owner Pierlot McCrooke. Walker Inc bought the company in May 2008 and transferred it to Shadwell in 2010. Pierlot Pizza was rebranded Pietro's in September 2010. It was sold to a Kemburger conglomerate before Adriaan Burgers' takeover in 2015, who renamed it Pierlot Pizza once again.
Pierlot Pizza is the largest and most profitable pizzeria chain in Lovia. Since its 2015 rebranding, under the slogan "The Original", Pierlot Pizza strives to offer original Lovian pizzas.
The Pierlot Pizza menu includes the following section:
Pizza is the name of an oven-baked, flat, usually round bread that is usually covered with tomatoes or a tomato-based sauce and often mozzarella cheese, with other toppings added according to region, culture or personal preference. While originating as a part of Neapolitan cuisine, the dish has become popular in many different parts of the world. A shop or restaurant where pizzas are made and sold is called a "pizzeria" (from Italian) although the phrase "pizza parlor" is also used in the United States.
Various toppings may be added, most typically:
Food
Ingredients
Standard
Family
Piccolo
Pizza Napoletana (classic)
Tomato and mozarella
4.25
6.75
3.25
Pizza Margherita
Tomato, sliced mozzarella, basil and extra-virgin olive oil
4.75
8.00
3.75
Pizza Margherita Extra
Tomato, mozzarella from Campania in fillets, basil and extra virgin olive oil
4.90
8.10
3.90
Pizza Marinara
Tomato, garlic, oregano, basil and extra virgin olive oil
4.75
8.00
3.75
Pizza Romana
Tomato, mozzarella, anchovies, oregano and olive oil
4.75
8.00
3.75
Pizza Vienese
Tomato, mozzarella, German sausage, oregano and olive oil
4.75
8.00
3.75
Pizza Capricciosa
Tomato, mozzarella, mushrooms, artichokes, olives, oil, prosciutto raw ham, hard-boiled egg
5.50
8.75
4.25
Pizza Quattro Stagioni
Same ingredients as Capricciosa, but seperated by "season"
5.50
8.75
4.25
Pizza Quattro Formaggi
Tomato, mozzarella, stracchino, fontina and gorgonzola cheeses and olive oil
5.50
8.75
4.25
Pizza Bianca
Mozzarella and ricotta cheese drizzled with olive oil and with fresh basil and garlic
4.75
8.00
3.75
Pizza Hawaii
Tomato, cheese, ham, green pepper and pineapple and olive oil
4.75
8.00
3.75
Pizza Salami
Tomato, cheese, salami and olive oil
4.75
8.00
3.75
Rich Pepperoni Pizza
Tomato, cheese, oregano, hot pepperoni salami and extra-virgin olive oil
5.50
8.75
4.25
Pietro's Own
Tomato, mushrooms, ham, salmon, hot pepperoni salami and olive oil
5.50
8.75
4.25
Greek Pizza
Tomate and olive oil topping, feta cheese, Kalamata olives and a thicker, chewier crust
5.50
8.75
4.25
Garlic Knots
Garlic and bread drenched in olive oil
1.75
2.75
Clients can always ask to alter the ingredients of the chosen pizzas. Ingredients can be left out or added. If expensive ingredients are asked, an extra $0.25 will be added.
"Sicilian Pizza" refers to a pizza with the toppings baked directly into the crust. All pizza varieties can be baked Sicilian-style.
Pizzerias
Edit
Notable regular visitors
Edit
The following celebrity Lovians are or have been frequent clients at Pierlot Pizza: MOTC Lars Washington ("When I'm looking for the real pizza."), former owner Pierlot McCrooke, Judge Arthur Jefferson ("When I run out of coffee."), former MOTC Robin Ferguson, Libertan politician Timo Van Canegem, and the members of the jazz ensemble Fox Force Four.
Good fast-food, quick service. "Le top" of the fast food eateries in Lovia.

-Cinq Etoiles
Community content is available under
CC-BY-SA
unless otherwise noted.