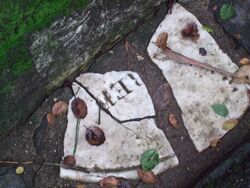 Princess' Park is an urban park in the Old Harbor of Noble City. It's one of the oldest parks in Noble City, established in 1888 as Hill Park and renamed Princess' Park in 1894. It is bounded by the Technology Avenue to the south, and by the Elisabeth Street to the east. The park is on a small but steep hill that peaks at 230 feet (70 m). The lowest section is the south end along the Avenue.
The park is not named after a specific princess, but lately has been linked many times to Princess Elisabeth, the young Lovian princess after whom the Elisabeth Street in the Old Harbor is named. Together with Princess' Park, Prince's Park was opened in the same neighborhood.
The layout of the park uses the steep hill to great advantage, offering great views of the city (particularly to the north) as well as impressive natural beauty.
Specific points of interest
Edit
The hill is composed primarily of sand and chert[1], formed in the Mesozoic period.
At the peak of the park is a small lawn offering views to the east, north, and south, including the entire Noble Beach and the Noble City Bay. Other excellent views are available from various lookouts lower down.
The east side of the slope is particularly notable for a group of majestic trees that are believed to date from the park's inception.
The paths along the west side are lined with gutters built by local workers out of broken headstones from the city's cemeteries at Long Road. In a few cases the inscriptions were placed facing up and can be discerned.
The west side of the park near the Federal Property features a particular noteworthy example of the modern-architecture work of Calder J. Smith, as featured in many architectural magazines.
The northeast corner staircase features a large peace symbol[2] shaped out of flower plantings.
References and notes
Edit
See also
Edit
Community content is available under
CC-BY-SA
unless otherwise noted.