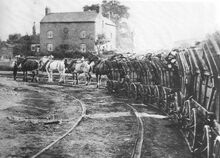 The Railway Museum is a Lovian museum in Mandarin Village, Noble City. It not only explores the history of all aspects of rail related transportation and industry in Lovia, it also conserves and exhibits the heritage of the Lovian environment.
On the entrance of the museum a enlarged photo depicts the Railway Museum and is surroundings in the early years. The museum is conveniently located next to the Mandarin Village Railway Halt, Pierlot Pizza only some steps away from bustling Eppinck Square. From the large baywindows, visitors have a view on the Trans Sylvanian and Peace Island Railways and admire the scenery.
History and collection
Edit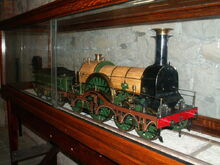 Iron Duke scale model
Edit
During a recent offical visit, HRH King Dimitri has been offered a scale model of the Iron Duke. It was HRH's wish that this model, in perfect condition, should be displayed in the Railway Museum on April 1, 2008 at the latest. In order to avoid the model being damaged whilst being exhibited, the museum director proposed the item to be displayed behind glass. During a turbulent weekend the necessary has been done in all discretion and today every visitor can admire the scale model of the Iron Duke in its full glory.
Blenkinsop stamp
Edit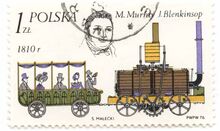 On April 4, 2008 a new item for the Railway Museum has arrived in a sealed envelope delivered by the Department of Culture, Heritage and Education. It contained a Polish postal stamp, depicting a steam locomotive of the type built by John Blenkinsop in the years 1812-1816. The accompanying note read as follows:
In 1810, John Blenkinsop, the manager of Middleton Colliery hired an engineer named Matthew Murray (Fenton - UK) and asked him to help produce a steam locomotive. Blenkinsop was keen to find cheaper alternative means of conveying coal.
Opening hours and prices
Edit
The museum is open Monday through Saturday from 10:00 AM until 4:00 PM. Groups visiting please advise a fortnight in advance.
Entrance prices:
Adults: $2.00
Children up to 12 years: $1.00
Groups: $1.50 per person
See also
Edit
Community content is available under
CC-BY-SA
unless otherwise noted.