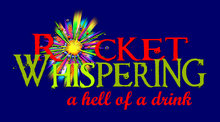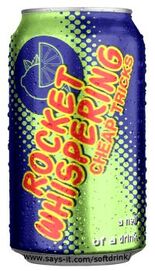 Rocket Whispering is a Lovian beverage company and one of Lovia's top manufacturers, distributors and marketers of non-alcoholic beverage concentrates and syrups for the production of sodas. The company is owned by Shadwell Inc. The sodas by Rocket Whispering are for sale in most Lovian supermarkets and grocery stores, such as McMarket and the Vineyard Stores.
Rocket Whispering was founded by Roberto de Alencon in 1986. There were not many soda brands in Lovia. Alecon orginally wanted to import Coca Cola, but was refused, as ASBOL already held (and still does hold) the license for Coke in Lovia.
So, he made his own soda. His drinks were rather unusual, because he lacked the knowledge. In 2000 Rocket Whispering discontinued nearly all of it sodas, because they were too expensive too make. The father of the well known Pierlot McCrooke, Harry McCrooke took over the company and made it part of the Sofasi Drinks Company. Then, his son Pierlot McCrooke became the owner. On January 16th, 2010, McCrooke sold the company to the newly-founded Shadwell Inc. In March 2010, Rocket Whispering re-evaluate all its brands and discontinued "Fuck You", the company's key brand since 2000. The flavor was replaced by "Cheap Tricks" and "Forbidden Fruit". A range of cola drinks were introduced as well, known as "Shady Coke".
Rocket Whispering
Edit
"Cheap Tricks" - lemon, lime, mint
"Forbidden Fruit" - grapefruit, pomelo, tangerine
Previous flavors:
2000-2010: "Fuck You" - mint, lemon
Shady Coke
Edit
"Shady Coke"
"Diet Shady"
Notable drinkers
Edit
Community content is available under
CC-BY-SA
unless otherwise noted.