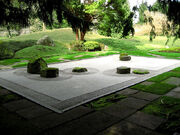 The Sand Garden is a public Japanese karesansui rock garden located at 31 Freedom Avenue, in Artista, Noble City. The Sand Garden contains many Zen Buddhist influences. Within the park, one can find exposed "dry landscape" exhibits as well as Zen temples and pagodas for meditation.
Although the Sand Garden is open to the public, its exhibits and sand patches are heavily guarded, and misconduct is dealt with by park workers. Aside from visitors being unable to disturb exhibits, noise is also to be kept to a minimum, in order to promote a feeling of peace and harmony. The park's exhibits contain genuine Japanese foliage, commonly found in authentic rock gardens.
The Sand Garden was initially proposed by, and is currently funded by Christopher Costello. The park was designed by Floyd Rahmsbottom and was completed in 2007. It has remained open ever since, except during the Winter season.
Community content is available under
CC-BY-SA
unless otherwise noted.