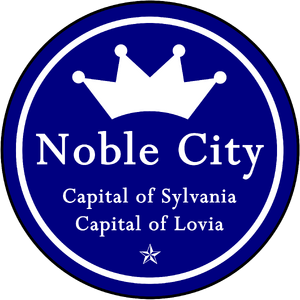 Every city, town or neighborhood can have a proper and official seal. Departments and other governmental organisations (eg. the Congress) can have official seals as well. The practice of using seals as much as possible, or aspiring to achieve the all-over use of seals, is called sigillism. The term is described as a design associated with a government or governmental office[1] by Wiktionary, though it's used in more contexts in Lovia.
Seal or coat of arms?
Edit
When Arthur I built this nation, he wondered which symbol he could use for official organisations. As he was from Belgium, where coats of arms and other old heraldic symbols are frequently used, he would have chosen that. But he knew that Americans use seals. So, seals is was.
Seals of places
Edit
Seals of states are:
Our current seals of cities, towns, hamlets, villages and neighborhoods are:
Seals of institutions and companies
Edit
Police departments
Edit
Railways
Edit
Seals by design
Edit
The Sofasi Design
Edit
Darkblue (mostly navy) seals, bordered by yellow tints, possibly with other colors. Eg. Sofasi.
The Downtown Design
Edit
Seals borderd with grey and black.
The Sylvania Design
Edit
Seals of which the center is (based on) an image of a landscape.
Seals in other seals or flags
Edit
Flags or seals in which seals are used:
References and notes
Edit
↑ Source: Wiktionary.
↑

Note: this design has some minor differences with the rest of the Downtown Designs, for example the wider white border.
See also
Edit
Community content is available under
CC-BY-SA
unless otherwise noted.