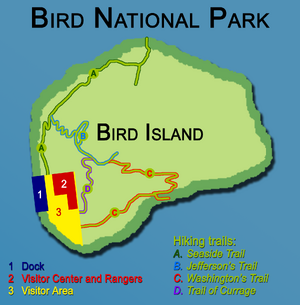 Seaside Trail is a hiking trail in Bird National Park, on Bird Island, Seven. It is referred to as the green trail and is a long but rather easy and family friendly hiking trail.
Trail description
Edit
The trail starts in between the dock and the Visitor Center and goes in nothern direction.
The path follows the west coast of the island until it meets Jefferson's Trail on the right hand side. That trail goes to the highest point of the island is of a more difficult level.
The trail continues to the northeast, still along the coast. The path is never steep and easy to walk on.
At the end of the trail, a small path goes to the northernmost point, offering a good view on the Pacific Ocean. Another way goes to the south, on a rather steep trail. It stops on a small hill and gives hikers the opportunity of watching birds and local wildlife.
The only way back is returning over the same trail.
See also
Edit
Community content is available under
CC-BY-SA
unless otherwise noted.