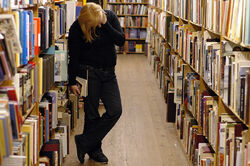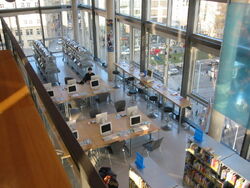 The Sofasi Library is a Lovian library based in Sofasi and well-known in the state of Clymene. It's a modern library, with books, internet access and music. The Sofasi Library also has two music studios that can be hired.
Library membership is free for those under the age of 25. For all others, there is an annual fee of $10.
The library has around 30000 books in 5 languages: English, Dutch, French, German and Spanish. The books in Dutch, French, German or Spanish are intended for both those following language courses of one of these languages, and those who speak it natively.
The Library possesses an auditorium on the first floor which can seat 700, and has standing room for 100 people.
The chief librarian is Thomas Ramsley.
Clymene Readers Club
Edit
As of November 8, 2009 a book club is associated with the Sofasi Libary. The Clymene Readers Club, of which the former monarch Prince Dimitri is a founding member, occupies a room in the library and often meets to discuss new and old books.
Monday: 10 AM - 7 PM
Tuesday: 2 PM - 10 PM
Wednesday: 10 AM - 7 PM
Thursday: 10 AM - 7 PM
Friday: 2 PM - 10 PM
Saturday: 10 AM - 7 PM
Sunday: closed
Music and Internet
Edit
The Sofasi Library has more than 40,000 songs in all genres. There are 70 computers with internet access.
Community content is available under
CC-BY-SA
unless otherwise noted.