See also: Special Chef Train Village for the brasserie in Train Village.
Brasserie Special Chef is a brasserie in Mandarin Village, Lovia, where governmental administrators and their visitors have lunch or diner.
The Brasserie Special Chef, as the name suggests, is a brasserie[1] with a relaxed setting, serving single dishes and other meals with more informal eating hours than a full-fledged restaurant and the same menu is served all day.
The brasserie enjoys an unrivalled reputation for the originality and quality of its superb dishes, a skilful blend of eastern and western cuisine, elegantly presented and served by friendly waitresses.
General information
Edit
The Brasserie Special Chef is located on the first floor of the Mandarin Village administration building on 9, Princess Avenue, just a stroll away from "Eppinck Square". Situated in Mandarin Village centre, it offers a perfect position from which to explore this fascinating Lovian city.
'Special Chef' uses the best and freshest local ingredients and also features a superb wine list. There are also 2 private rooms that cater for parties of 8 to 50.
The brasserie is open daily from 11:00am till 22:00pm.
The clock next to the main entrance is a gift from a wealthy gourmet who was determined to keep track of the elapsed time during his luncheons.
King Dimitri Cakes
Edit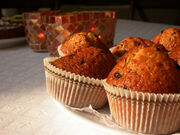 As it is, Mr. Twelvetrees from the 12trees Patisserie recently created a little cake he named King Dimitri Cakes as a tribute to Dimitri I, the former King of Lovia whom Mr. Twelvetrees is very thankful for having been granted the opportunity to deliver his patisserie to the Royal Palace.
When asked for the receipe of this extraordinary little delight, Mr. Twelvetrees gives one of his biiiiiiiiig smiles and replies: use the best of ingredients, from the Lovian dairy products and finish with the extract the vanilla orchid, gently stir the dough while adding the famous Zante currant raisins and above all, do not forget, before closing the door of the oven, to look at the cakes whilst talking to them. Tell them you reckon they will do what they are meant to do: being delicious!
Suppliers
Edit
Good food, but lacks the charm that the TV Special Chef has. Great for a casual bite, but nothing extraordinary. Would recommend the King Dimitri cakes, quite possibly the best item on the menu.

-Cinq Etoiles
References and notes
Edit
See also
Edit
Community content is available under
CC-BY-SA
unless otherwise noted.