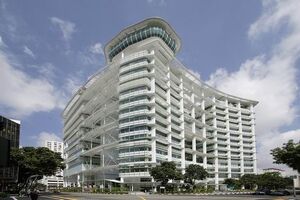 The Supreme Court is the highest court in Lovia. Its headquarters, the Supreme Court House, are based in Downtown Noble City, in the Supreme Court House. Lawsuits are presided by Supreme Court Judges. Every case of encroachment against the Constitution or the Federal Law are presided over by the Supreme Court[1].
Initially the Supreme Court was an institution composed of a single appointed Judge that presided solely over issues concerning the Constitution and Federal Law. They had tenure for life. The power to appoint Judges was vested in the Federal Secretary of Justice with approval by the Prime Minister. When State Courts were abolished in 2010 the Supreme Court also assumed the right to rule over issues within States. Following reforms in early 2011, Judges were nominated by the Federal Secretary of Justice and instead now approved by a normal majority in Congress and could be dismissed by Congress with a special majority, they still retained tenure for life however. 2012 Reforms enlarged the Supreme Court to three Judges after issues arose when the Judge was either a plaintiff or defendant in a trial. The most recent change to the institution came in 2017 when the nomination method changed again. Judges are now nominated by the Prime Minister, require support from 25 Congresspersons prior to their nomination being voted on by Congress, where a simple majority is needed.
Main article: Judge#Supreme_Court_Judges.
The three Supreme Court Judge positions are currently vacant.
List of Supreme Court Trials since the Constitution of 2007:
If you intend to start a trial, please file your accusations and talk to the Supreme Judges.
Community content is available under
CC-BY-SA
unless otherwise noted.