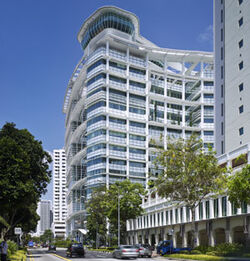 The Supreme Court House is the court house of the Lovian Supreme Court. It is based in Downtown Noble City, close to the other federal institutions. The new building was built in 2008 and is located at Democracy Avenue 2A. It is not only a court house, but has also some public functions. The building has 16 storeys and offers a good view over Noble City. It is ranked in the list of tallest constructions in Lovia.
Main article: Supreme Court.
Architecture
Edit
The building consists of two 16 storey blocks, with three basements each. The blocks are linked by skybridges on every floor. It houses two large court rooms and one smaller court room. On the 16th floor, there is a closed viewing point called The Eye. It is only used for functions and events, and is not a viewing gallery. From The Eye, it has a panoramic view of Noble City, and also the Peace Island inland. There are also many gardens in the building but only two are opened to the public. They offer a good view of the city, and one is the Courtyard on Level 5 and the Retreat on Level 10. The building has three public panoramic elevators with a city view. The Supreme Court Judge's personal office is on the 14th floor of the building. The building has escalators from Basement 3 to the 14th storey. It has a carpark with 246 lots. On the first floor is the main entrance, and a cafe, with a big space, the Plaza, and is sometimes used for exhibition space. A number of old bricks from the old building are in this new building.
The old building was demolished after the Alexandru Latin Trial in April 2008. It was severly damaged and too small for huge press attracting trials as the Alexandru Latin Trial. It was designed by famous architect Henri Charles Anosier.
Photo gallery
Edit
See also
Edit
Community content is available under
CC-BY-SA
unless otherwise noted.