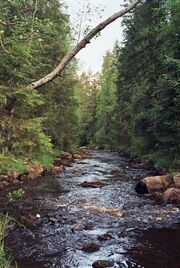 The Syf (River) is a river in the Lovian state of Oceana, which flows through the Polish Forests. It is formed by the confluence of the two streams Lessef and Old Syf in the Syf Hills. Both streams originate in the Northern Central Hills; a major tributary to the Lessef is the Goarssef. In the lower Syf Hills, the Syf diverges into the main branch and the Polish Stream, which has the distributary Treehold Stream. In the Polish Forests, the Heyessef is an affluent of the Syf. The Heyessef drains the entire natural area of That Heye.
It is often regarded as forming the border between the two main historic cultural regions of Oceana: to the north, the area culturally influenced mainly by Polish settlers, and to the south, the area that was culturally part of the shared Slovak and later on native Oceana atmosphere.
The Syf River played a gigantic role in the Oceana Mineral Rush. Settlements like Sternaw flourished in the late eighteenth to early nineteenth century due to deposits of zincite and other metals. As the Syf River contains small deposits of gold, it attracked many inhabitants of Sternaw and other nearby hamlets who sieved the river for its gold. In the late 1930's, gold production practically ceased and ever since, the river no longer has any commercial use.
Community content is available under
CC-BY-SA
unless otherwise noted.