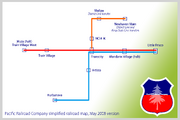 The Transcity Railway Station is a major Lovian train station in Transcity, a Noble City neighborhood. It's the first station in Noble City when entering the city from the west (Train Village) on the Trans Sylvanian Railway. The station is important because all lines from Train Village[1], Hurbanova[2], Newhaven and the NCIA[3] enter Noble City through this station. It is the largest railway station in the entire nation, by both size and activity.
Transcity originally was a exclave of Noble City, meaning that the neighborhood was a part of the capital, though it was in fact surrounded by fields, and not by adjacent neighborhoods. The railway station connecting Transcity to the Noble City stations, was built in 1946, two years before the Little Frisco Railway Station. For a long time, it was one of the more important railway stations. In 1972, the LF Station was entirely renovated, while the Transcity Station (at that time named Noble City West) was practically decayed. Little Frisco was the number one railroad station at that time and left all other stations behind.
The station was finally renewed in 1996. The former building was practically destroyed, except for the main building. A new one was designed by a unknown architect and was built shortly after, exactly fifty years after the first building was built. In the 1990s and 2000s, the station was slightly renovated a couple of times. In the Spring of 2008, the Lovian railway system was expanded many times, supported by the Pacific Railroad Company. When the Grand Interstate Railway connecting Noble City to Newhaven was opened, the Transcity Railway Station became the nationwide number one station by passenger figures. It is the only station connected to all stations on the PRC network, without the need to transfer.
Rail traffic
Edit
As of the opening of the Grand Interstate Railway, the Transcity RS is the nationwide number one in passenger numbers. Little Frisco, the former number one, became the second in the list. Three major railways arrive or pass Transcity: the GIR, PIR and TSR.
Traveler's information
Edit
Free information on railways operated by the Pacific Railroad Company and a railroad map: click here.
Schedule
Edit
References and notes
Edit
↑ The Trans Sylvanian Railway from Train Village passes Transcity.
↑ The Peace Island Railway from Hurbanova passes Transcity.
↑ The Grand Interstate Railway from Newhaven passes the NCIA and ends in Transcity.
See also
Edit
Community content is available under
CC-BY-SA
unless otherwise noted.