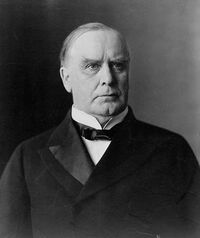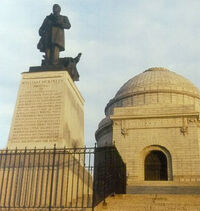 The William McKinley Park in Kinley is a tribute to the 25th president of the United States of America (January 29, 1843 - September 14, 1901).
William McKinley was born on January 29, 1842 in Niles, Ohio and was the seventh of nine children. In 1869, he made Canton, Ohio is permanent residence and remained there unitil he died. His parents William and Nancy McKinley were of Scots-Irish ancestry. He graduated from Poland Academy and attended Allegheny College for one term in 1860, where he was a member of the Sigma Alpha Epsilon fraternity.
William McKinley faught in the Union Army in the American Civil War were he ended as a Captain and brevet major of his regiment. In 1869, the year he entered politics he met his future wif Ida Saxton, which he married tow years later.
His political carreer started in 1869 as a prosecuting attorney of Stark County from 1869 to 1871. After beeing elected as a Republican in the United States House of Representives, he won the governorship of Ohio in 1891 and was reelected in 1893. In 1897 he was chosen by the American people as the new President of the United States. He was reelected in 1900 against the same opponent as 4 years earlier William Jennings Bryan.
On September 5, 1901 Leon Frank Czolgosz fired two shots at President Mckinley, the first bullet grazed Mckinley's shoulder but the second one went through his stomach, colon and kidney and stuck in the muscles in his back. After nine days in the hospital William McKinley died on September 14, 1901.
The William McKinley Park in Kinley, Seven is a green and natural park, with lots of animals, a pond, beautiful trees and flowers. In the middle of the park you'll find the William McKinley memorial based on the memorial in Canton, Ohio.
In the summer lots of people are just walking, sitting on one of the many benches or laying on the grass enyoing the natures pride.
Community content is available under
CC-BY-SA
unless otherwise noted.